Fullscreen Media
Fullscreen Go
A YouTube creator application tool to onboard and create partner contracts with Fullscreen Media.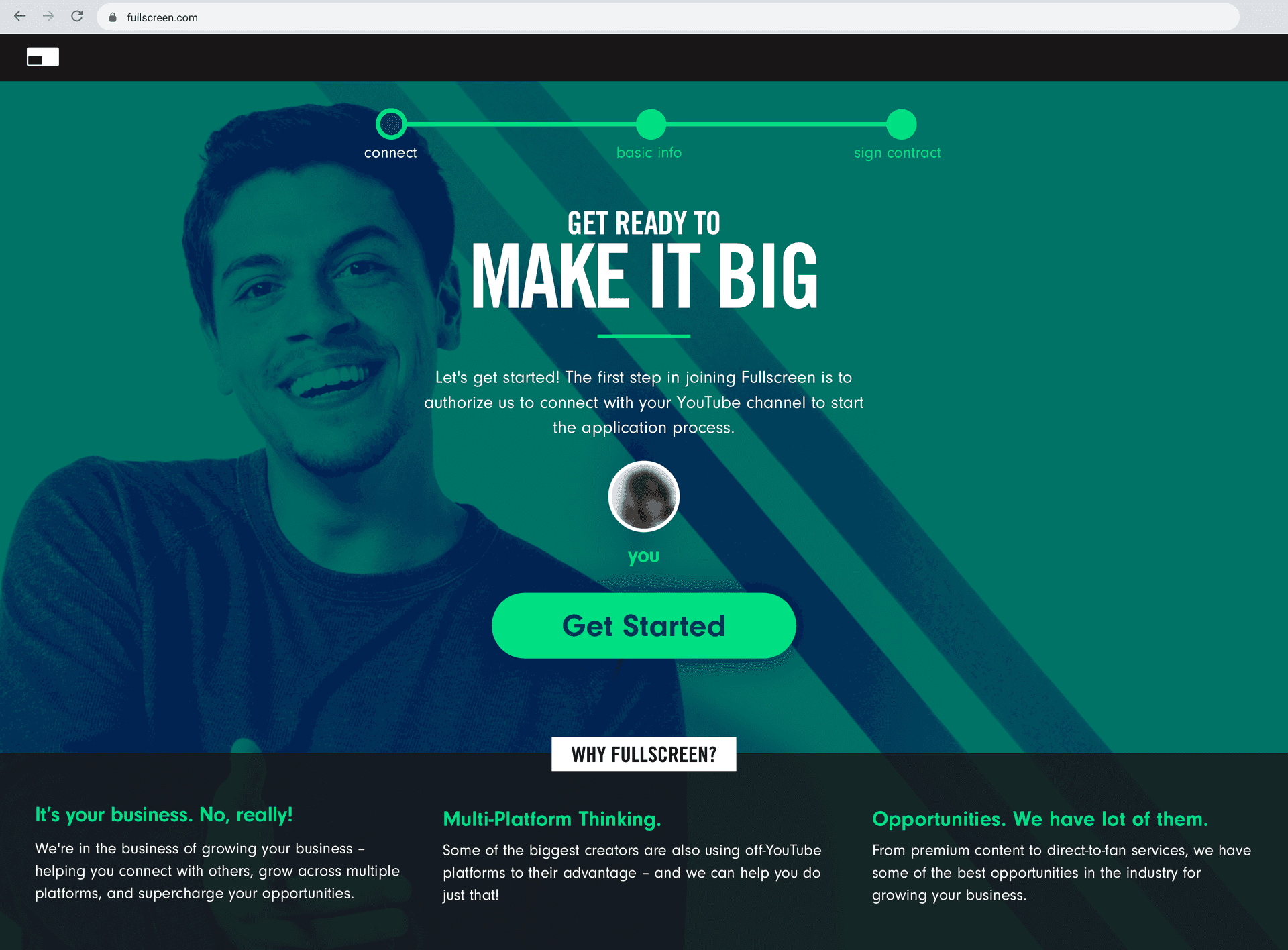 Background
Fullscreen Media is a social entertainment company that offers a full suite of services and tools to content creators and brands to enable them to create and monetize compelling content to their full potential on video and social platforms such as YouTube.
Fullscreen Go is a microsite that allows YouTube creators to apply to partner with Fullscreen Media. This semi-automated process starts with the potential applicant authenticating with Google to do some basic checks on their channel. This tool integrates with Fullscreen Media's Salesforce application and automatically generates a contract for the applicant if their channel meets the requirements.
My Role
I was responsible for researching the current Fullscreen Go process, conducting interviews with internal stakeholders, analyzing feedback, devising a comprehensive design solution to alleviate the issues, and creating a landing page design for the user-facing screens as part of this project.
Problem
In the early days of Fullscreen, signing YouTube talent to Fullscreen was an entirely manual process. This process was managed with a shared Google Spreadsheet across the team — a laborious, tedious, and mistake-prone process. When the first version of Fullscreen Go launched, it was a big success. It established a consistent process and made an arduous process more efficient, but there was still room for improvement.
Goal
Initially, Fullscreen Go removed the need for the Google Spreadsheet, but a significant amount of manual effort remained in guiding creators through the partnering process. To make the process less cumbersome, we aimed to automate certain mundane tasks. Although this objective seemed simple at first, several complex background services were communicating with one another. Furthermore, Fullscreen Go's handling of channel information was not transparent enough for applicants to understand what was happening.
Process
There are two primary user groups for Fullscreen Go: the applicant and the partnerships team responsible for managing new Fullscreen partner applicants. To understand how Fullscreen Go operates and how the partnerships team interacts with it, the product manager and I collaborated and conducted interviews with the partnerships team. During these interviews, we sought to gather their feedback, including any positive or negative experiences they had with the process.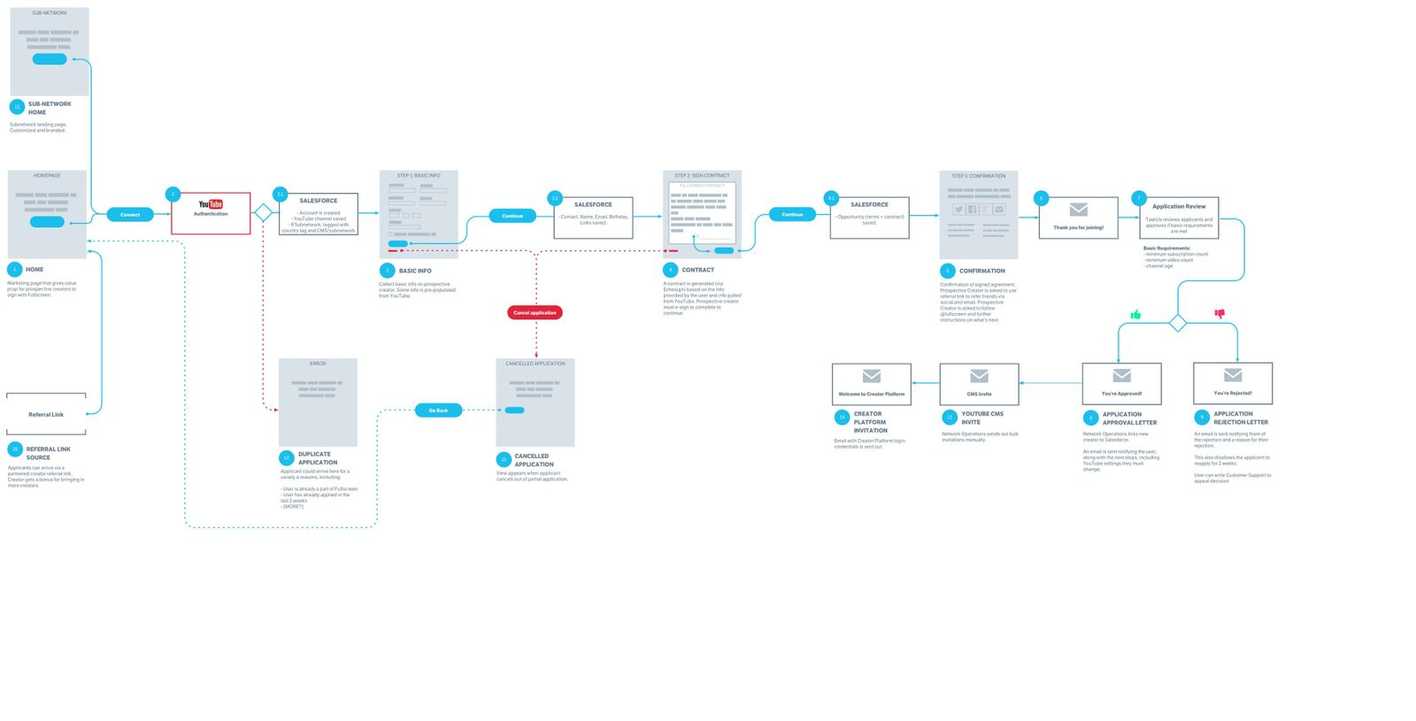 After conducting interviews and parsing feedback, I put together a user flow to document how the Fullscreen application process currently worked. Fullscreen Go required interaction with a few different APIs, and very little documentation existed that explained the technical aspects.
Despite everything going under the hood, only four screens in Fullscreen Go required a design — The application flow for the applicant. We needed a design for the landing page, basic information form, review and sign contract terms, and confirmation screen.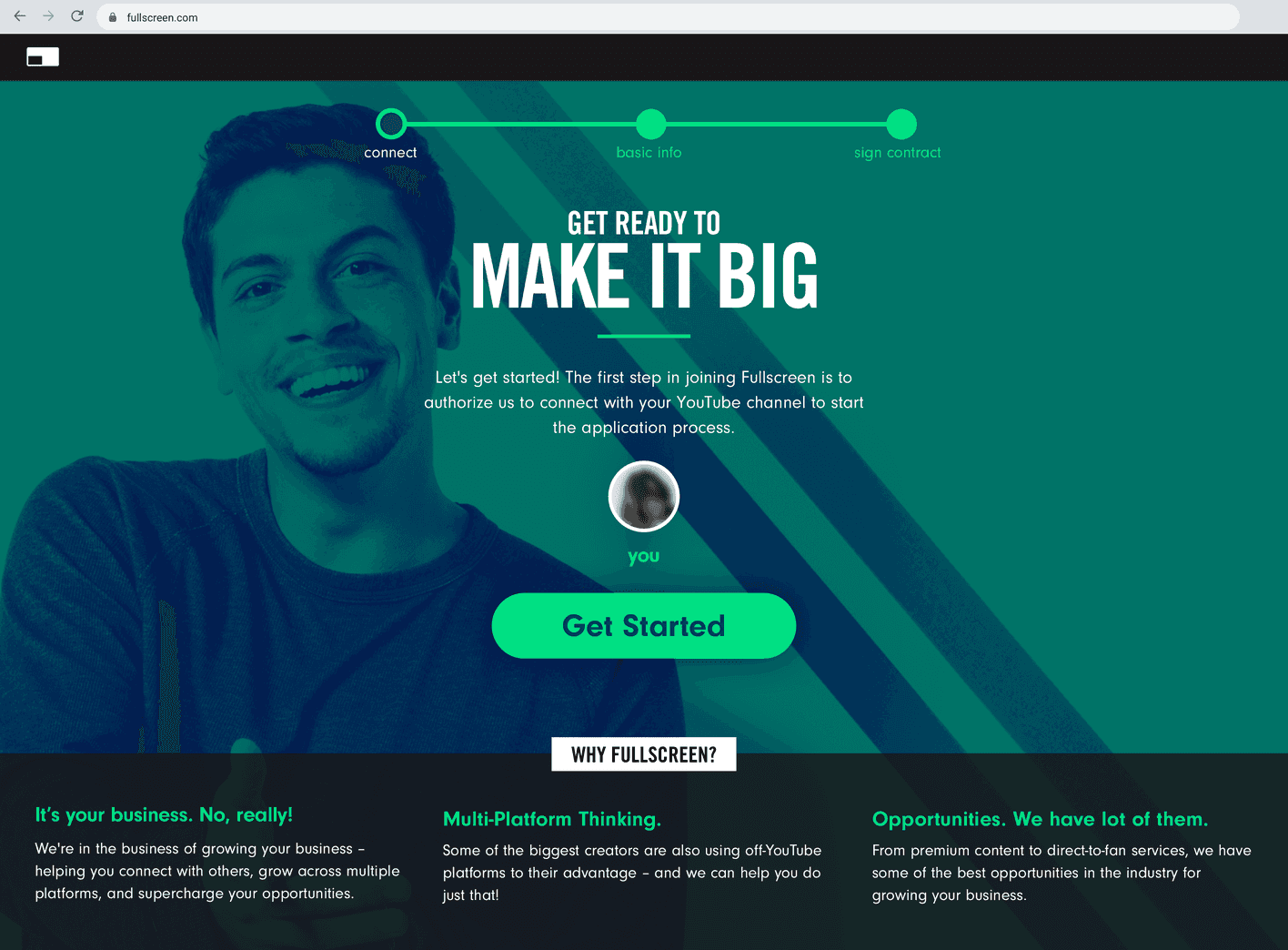 The applicant visits the landing page with marketing copy conveying the value proposition. If the applicant chooses to go through the application process, The applicant authorizes their Google and YouTube data for sharing with Fullscreen Media.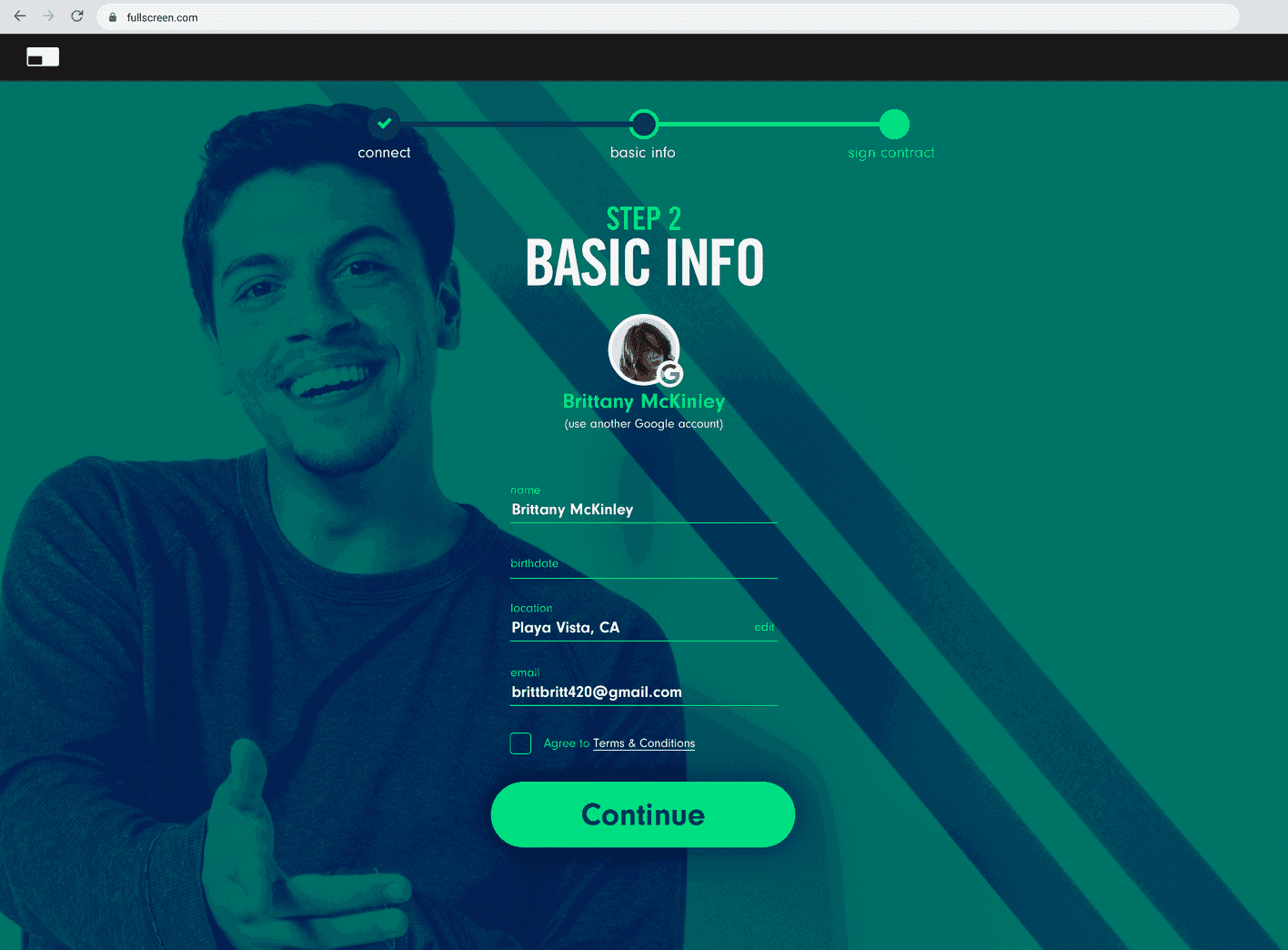 The applicant gives Fullscreen Media their basic information and agrees to the terms. After clicking the Continue Button, Fullscreen Go records the applicant's collected information in Salesforce as an opportunity.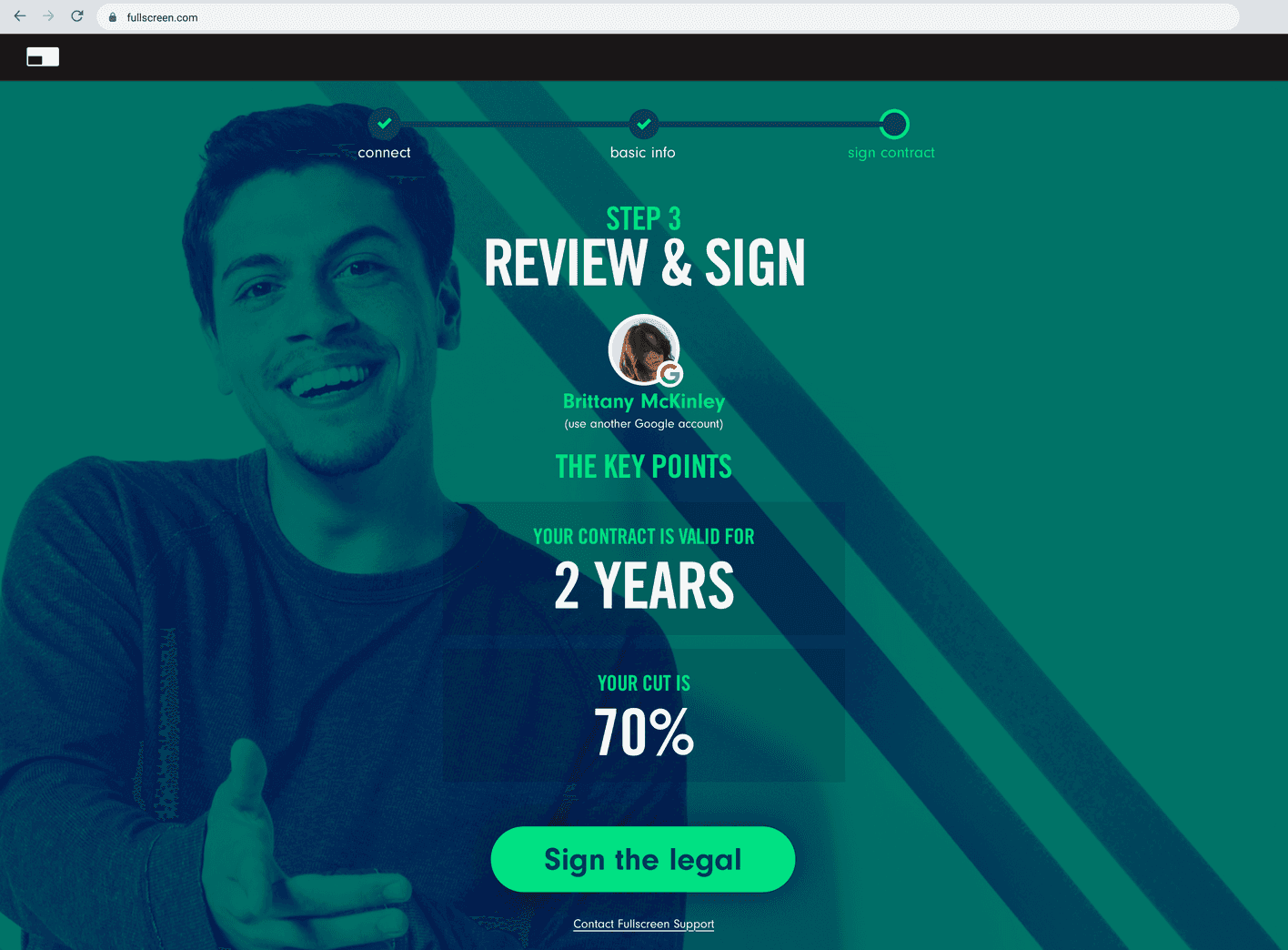 If the applicant passes the automated check, they get offered a standard contract of two years and a seventy percent cut of ad revenue. The Sign the Legal button takes them to our contract service (DocuSign) to e-sign the generated contract.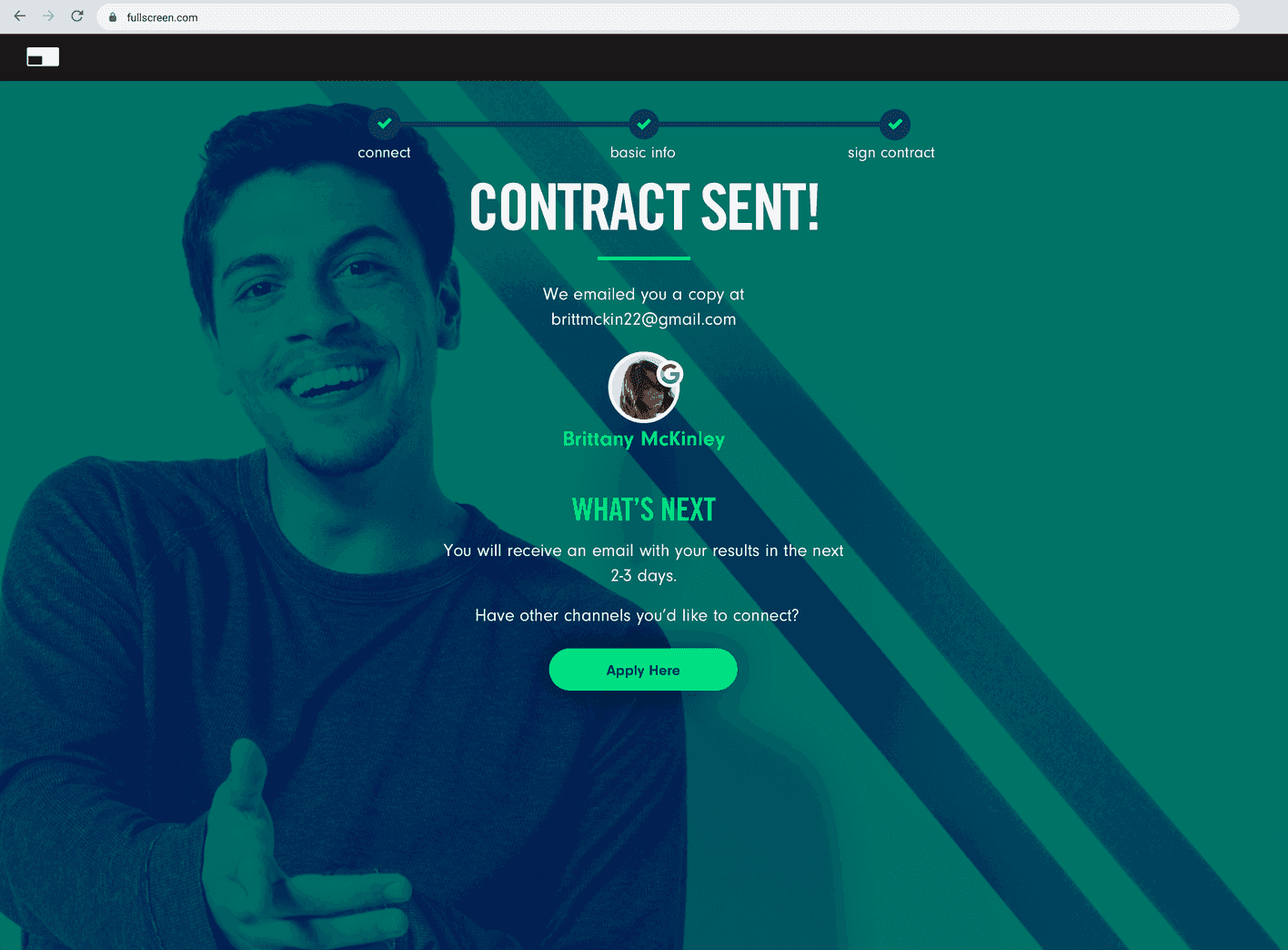 After signing, Fullscreen Go sends the contract to Fullscreen. The applicant receives the contract via email. The contract requires final approval from Fullscreen's legal department.
If approved, the applicant gets a congratulatory email confirming their acceptance with additional steps to connect their YouTube channel to Fullscreen Media's content management system. Once the applicant takes these final steps, they get an introductory email inviting them to the Creator Platform.
If rejected, the applicant gets an email notifying them, typically with a reason. The applicant is allowed to can re-apply in six months.
Drop me a line
Please feel free to contact me regarding consulting inquires, or just to say hello.
me@chrisgriffin.org